We're thrilled to celebrate a significant milestone – Perform Partners has turned five! This achievement wouldn't have been possible without the support of our incredible team, valued clients, and partners.
As we reflect on the past five years, we're reminded of the remarkable progress we've made together. Today, more than ever, we're equipped with invaluable change management experience spanning various sectors, an exceptional team, multiple award wins and a growing portfolio of satisfied clients.
A Visionary Beginning
Perform Partners was founded with a vision to reshape business change delivery by eliminating uncertainty and bringing clarity and control in a sustainable way. Our consultancy doesn't just offer solutions; we wish to become an integral part of our clients' journey toward excellence.
Our success is rooted in our guiding principles, which shape how we operate.
The Power of Partnership
Our journey has been defined by the relationships we've built. From the very beginning, we understood that true success lies in collaboration. We've had the privilege to work with organisations of different sizes and across various industries, and each partnership has enriched us in unique ways.
Innovation and Adaptability
The business landscape is constantly evolving, and so are we. Over the years, we've embraced technologies, benefitting both ourselves and our clients. We've refined our methodologies, and further polished our service offerings to stay ahead of the curve. This commitment to innovation ensures that our clients receive the most effective and forward-thinking solutions and processes.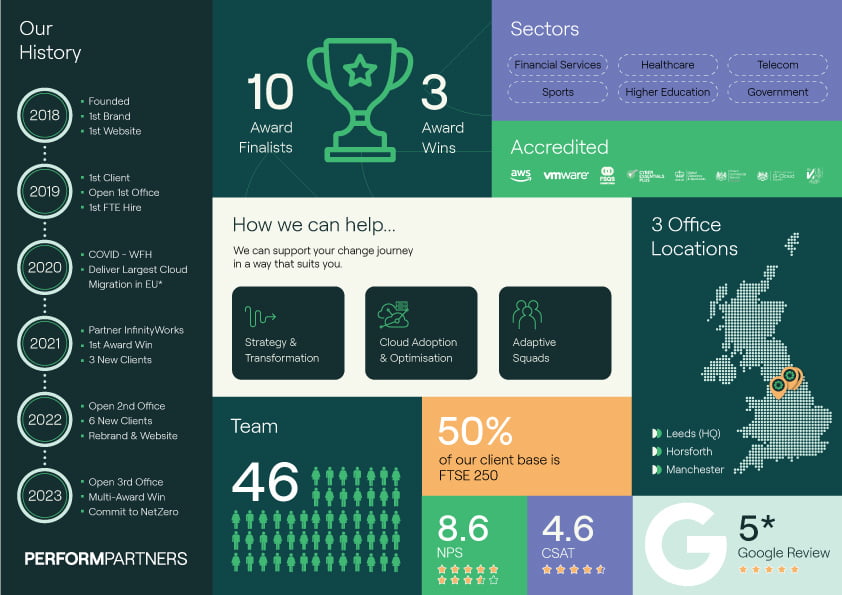 A Passionate Team
Behind every success story at Perform Partners is a team of dedicated individuals who bring their expertise, creativity, and passion to the table every day. Our team members are not just professionals; they are enthusiasts, driven by the shared mission of driving performance excellence. Get to know the Perform Team.
Giving Back to the Community
As we celebrate this milestone, we also want to express our gratitude by giving back to the community. Through various initiatives supporting Leeds Mind, our chosen charity, and our local communities, we have aimed to positively impact the world around us. Since we first partnered with Leeds Mind in 2021, we've raised over £4,000, and we're continuing our efforts with the Firewalk event planned with Leeds Mind in November 2023.
Looking Ahead
As we enter this new chapter, we are even more committed to pushing boundaries, exploring new horizons, and helping businesses thrive.
Kristy Dean, Head of People and Culture commented: "As we mark this significant milestone, we reflect on the incredible journey we've undertaken together. Each step has been defined by dedication, collaboration, and a shared commitment to excellence."

Thank you for being an integral part of our journey! As always, we are committed to pushing forward and are thrilled to announce some exciting news in the near future. Stay tuned for updates!